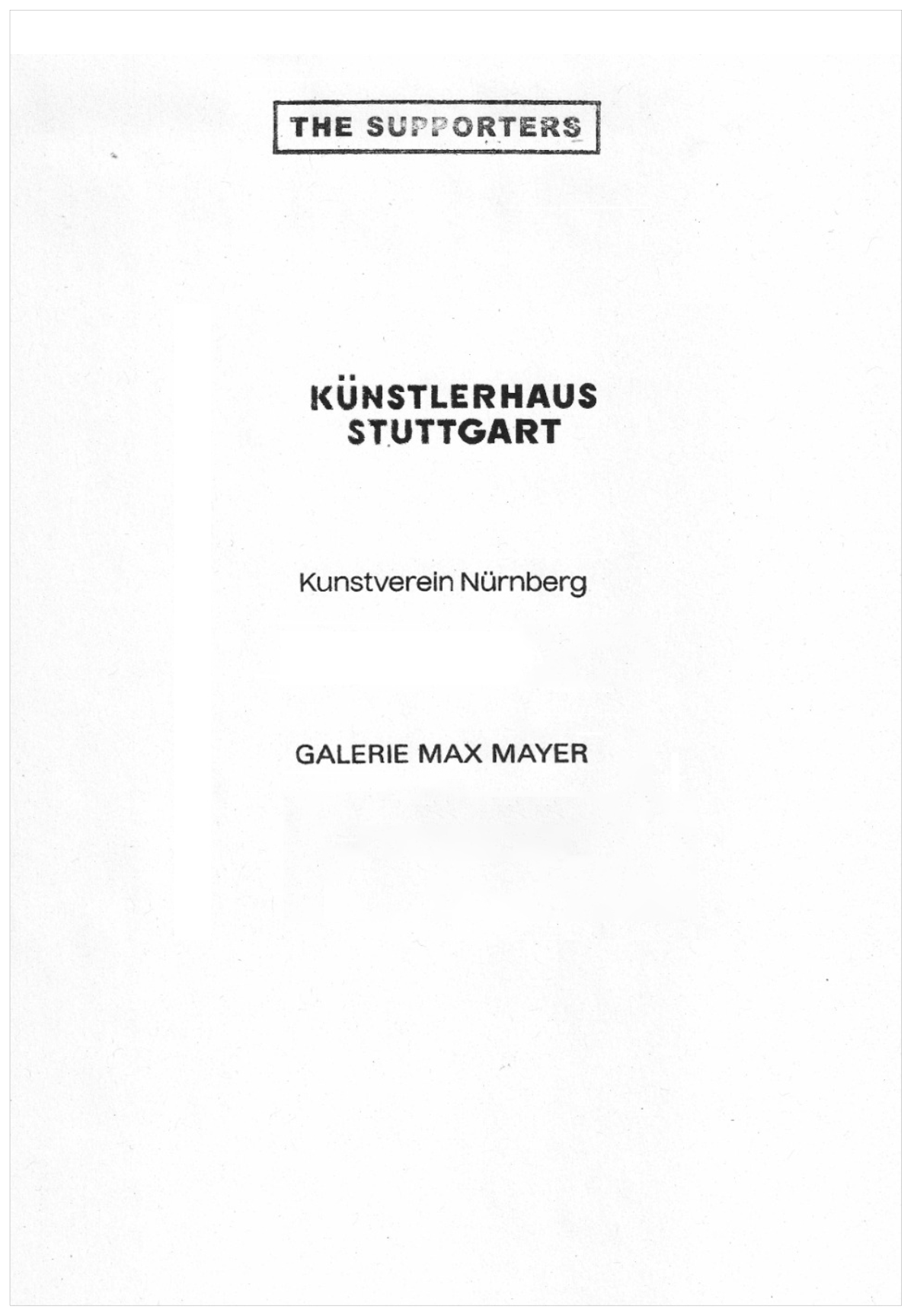 The Supporters envisions a system of dependency that places each entity (Künstlerhaus Stuttgart, Kunstverein Nürnberg, and Galerie Max Mayer) in a looping circuit of donations that implies flows of reciprocal demands and compensations. Negotiations took place between 2019 and 2021. The envisaged scenarios were confronted with legal, ethical and interest impediments. An agreement is signed in extremis.

Initiated in 2019, The Supporters aims at reaching the limits of the systems of financial generosity.

In using an already well-implemented mechanism of charity supported by plutocrats elites, The Supporters aims to reproduce that same system into three contemporary art institutions (one private, two public) through a looping apparatus that rather reveals a whole system of constraints. To embed the donation act, a three party contract gathering tax benefits and compensations due is set between the three entities, notarized and signed in February 2021.

The Supporters witnesses immaterial transfers of money in turning the three entities in being both donors and receivers in a reciprocal demand. Having to respond to fair compensations and give full disclosure of their money transfer towards the other entity and their own, the philanthropic dependency transforms progressively the three entities into the passive engines of a self suffocating machinery.

The Supporters also considers the reality of the support that the State is providing in this time of pandemic, for which the institution has received a grant (Ministerium für Wissenschaft, Forschung und Kunst Baden-Württemberg) that also requests compensation while advising new important restrictive recommendations to be implemented in their buildings. These various forms of support overlap and sometimes contradict each other. As a result, the entire project is impacted in its production and forms of dissemination, and consequently gain tangible visibility on what is usually muffled.

Texts: Künstlerhaus Stuttgart, Kunstverein Nürnberg, Galerie Max Mayer.


Featuring:

KN, KHS, GMM


Actors: Bastien Bruère, Nino Wassmer
Assistant Director: Thomas Tourtelier
Director Of Photography: Naïg Gilbert
Assistant Camera: Rodolphe Deshardillier
Set Makers: David Post-Kohler, Elie Roesch
Editors: Thomas Tourtelier, Eva Barto
Color grading: Rodolphe Deshardillier
Video produced at DOC ! Paris

Assistant Project Production: Cloé Beaugrand
Production Intern: Marianne Veyron

Lawyers: Bauschke Braueuer
Painting by François Mark


Thanks:

Eric Golo-Stone, Max Mayer, Milan Ther
Siggi Kalnbach, Regine Psiterer, Antonia Terhedebrügge, Thomas Weise
Roy Huschenbeth, Nicole Trzeja
Ann-Kathrin Eickhoff, Robert Müller, Peter Naumann,
Reiner Allgeier, Jacob Braeuer
Thomas Tourtelier, Cloé Beaugrand, Naïg Gilbert, Rodolphe Deshardillier,
Nino Wassmer, Bastien Bruère, David Posth-Kohler, Elie Roesch,
Marianne Veyron, François Mark
Sophie Bonnet-Pourpet, Angeline Madaghdjian, Louise Siffert, Claire Finch, Barbara Quintin, Laure Vigna, DOC !


Galerie Max Mayer
Ministerium für Wissenschaft, Forschung und Kunst Baden-Württemberg
Institut Français «With the kind support of the Bureau des arts plastiques of the French Institute and the French Culture Minister»
AL-KO


_____________________________________________________

0 - The Supporters (donors-donees, grantors- grantees, sponsors-sponsees),
Catalog, Buttonwood Press W. The publication includes the list of submitted scenarios (Closed Circuit 1-11), their legal, ethical, interests restrictions (Impediments), the finals agreements, the elements used in their negotiations, and the documents and script of the Video The Supporters. Buttonwood Press is a publishing house dedicated to a 10 books collection based on the interpretation of an economic issue ensuing from their own financing.

1 - System of Contracts,
Agreements between Künstlerhaus Stuttgart, Kunstverein Nürnberg, Galerie Max Mayer. Agreements drafted by the law firm BAUSCHKE BRAEUER. Signed and notarized in 2021.

2 -
The granting agency financially supports the exhibitions while advising the host institutions to modernize their buildings' hygiene systems. Consequently, air purifiers have been installed in the exhibition spaces. Their placements follow up the installation recommendations of AL-KO company. The status of each purifier and its use after the exhibitions depends on the signed contracts.

3 - Self suffocating furncace,
Painting of a wood furnace built in a close circuit. The painting is shared between the three institutions from March to July 2021. Painter: François Mark.

4 - The Supporters,
Three looped videos, 50 minutes each, (Galerie Max Mayer, Künstlerhaus Stuttgart, Kunstverein Nürnberg). The episodes are simultaneously displayed on the institution's members' websites:
https://kuenstlerhaus.de/thesupporters (27.03.2021 - 25.07.2021)
https://kunstvereinntuernberg.de/en/ join (27.03.2021 - 02.05.2021)
http://maxmayer.net/info/the-supporters (27.03.2021 - 25.07.2021)
and www.buttonwood.press/thesupporters (from 25.07.2021)

5 - Win Win,
Vinyl logos of the Supporters.